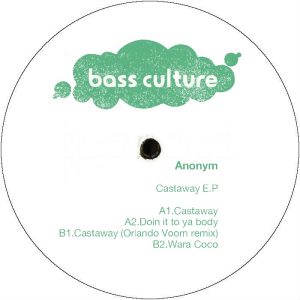 As the winter begins to draw in Bass Culture delivers a fresh new release straight from the oven, to keep you warm as the nights get ever colder. The label owned by Paris stalwart D'Julz welcomes back an old friend in Anonym, the man responsible for BCR006 and BCR021 returns for a four-track outing which includes a remix from Orlando Voorn. Sultry atmospherics and masterful production are evident throughout this crisp new addition to the Bass Culture catalogue, another instant classic from the Detroit badboy Anonym.
The first of the four tracks on this EP goes by the name of 'Castaway', and its effortless groove will have you drifting away to a desert island the second you hear it. As a slightly obscured vocal repeats 'castaway' over and over, you're lulled into a dreamlike state. Simple and highly effective, its progression is subtle and invigorating. Right after that we have Dutch supremo Orlando Voorn taking charge of the remix and pushing the track deeper into celestial territory with flashes of synth that transport you out into the cosmos. The atmosphere of the original is expertly retained, with a steady pace and cool, mellow vibes throughout.
Flip the record over and there are two more killer cuts. First we have 'Doin It To Ya Body', which keeps things minimal and straight to the point. Bright disco strings lie at the heart of this track, slowly weaving their way in and out of the background while the drums and rugged b-line keep your feet moving and head bopping. Lastly, 'Wara Coco' offers more hypnotic vibes drawing you with its dainty melody, dancing around the top end, while a mean bassline throbs away, deep down in the low end. It's an strong combination and finishes off the EP in style.
BCR052 – Anonym – Castaway EP
01 – Castaway
02 – Doin It To Ya Body
03 – Castaway (Orlando Voorn Remix)
04 – Wara Coco
Out on vinyl January 2016
DJS & MEDIA
Dope… Fred P cool stuff Dubfire castaway original is the one for me ! Will play it for sure Dorian Paic Lovelyyyyy release …… Will play for sure Laurent Garnier doin it is the one for me Jan Krueger Dig the orig Castaway! Great groove. Orlando mix is nice as well! Josh Wink orlando Voorn mix is cool Woody great release! full suport from me! Sebo K warm indeed, just the right thing for now…all groove and atmosphere on these, top quality…and that OV remix…epic.. Dan Curtin Very good one 🙂 Molly Doin It To Ya Body sounding good to me Jacques Renault Fantastic Orlando Voorn remix Karim Sahraoui all great ! i will play defo Varoslav Castaway is cool Simon Baker Great Stuff like always from BC! Franco Cinelli Love Doing it to ya! Joris Voorn Wiked Richie Ahmed Grrrreat!!! Both versions of "Castaway" go straight into my (Rekord)Box Kiki OK yall going all the way atonal. I can dig that 🙂 Tripwastaz
Played by Ame, Damian Lazarus, Richie Hawtin, Steve Lawler, Maceo Plex, Marco Carola, Sven Vaeth, Agoria