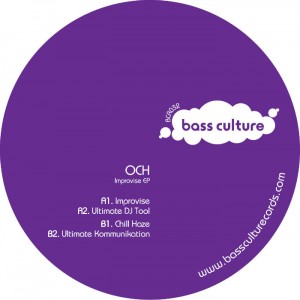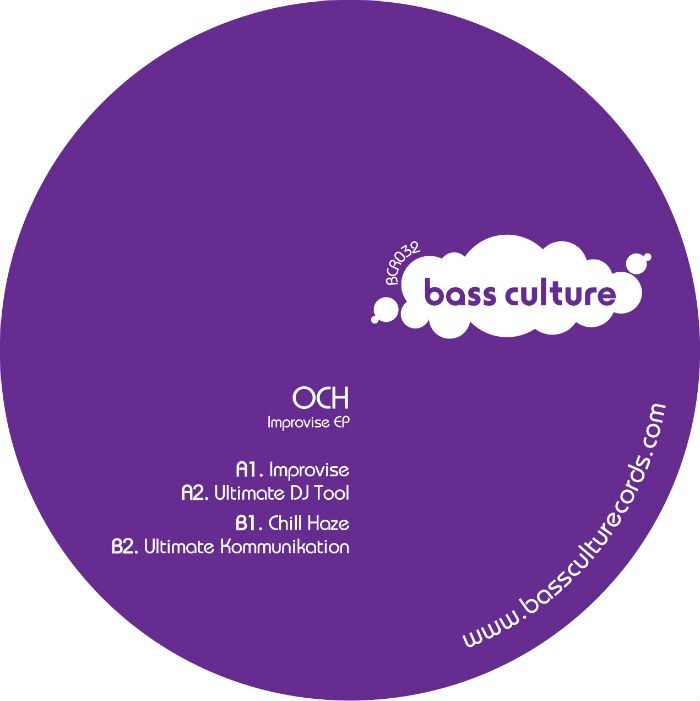 Bass Culture welcome British producer OCH into the fold for their latest release, the Impressive EP, which we must say certainly lives up its name. OCH hails from London, but relocated to Sweden, where he produces most of his material – with previous releases coming via imprints such as Baby Ford's PAL SL Records, Trelik and Autoreply, OCH has established himself as a reputable source of carefully-crafted, deep, often introspective techno sounds. His productions caught the ear of label boss D'julz and culminated in this four-track EP, which is full of off-kilter rhythms and warped sounds. Take the first track for example, with tribal percussion kicking in from the off. It's soon joined by a wonky chime effect that meanders up and down, colliding with the beats and beguiling the listener with its captivating movement. An old school vocal sample drops in, before the track continues at a pace droplets of water can be heard in the background and cantankerous snare makes its presence felt throughout. A strong start. Ultimate DJ Tool is pretty self-explanatory, it's a one-minute loop with a sample repeating 'This is… the ultimate' accompanied by a synth stab in the background. Certainly guaranteed to do some serious work on the dancefloor when used in the right way. Next up is Chill Haze, a relentless, driving techno track that rolls and rolls (and rolls) repetitive and enchanting in its continuous flow. As the beats clap around the whirring bassline you'll be come transfixed by its allure, like a cobra to snake charmer's flute. Airy melodies dance away in the background as the bass drives on, with just a couple of moments of respite. Finally Ultimate Kommunikation is a more downbeat affair, trundling along with a sullen feel, emotive synths cascade over the stepping beats. The vocal utters 'This is… the ultimate', flutes sing away adding extra gravity to the dramatic feel of the track and punctuating a delightful breakdown. OCH throws down some serious music in this new package from Bass Culture, which is a great addition to the Parisian label's catalogue and to any DJ's collection.
BCR032 : OCH – Improvise EP
01 : Improvise
02 : Ultimate DJ Tool
03 : Chill Haze
04 : Ultimate Kommunikation
Out on vinyl & digital June 2013.
DJS & MEDIA
Dubfire « Cool Tracks , Thank You! » Damian Lazarus "spacey" Dj Sasha / Adam "Cool release! Can you please send WAV's" Tobi Neumann "Rough, wild, serious.. good stuff from Mr. Och!!" Jus Ed "NUMBER FOUR IS NICE COULD HAVE USED SOME STRINGS MAYBE TO BRING IT OVER THE TOP…BUT I'LL BE PLAYING IT ;)" Laurent Garnier "Grosse balouz chez Djulz … Super sortie , bien fucked up et wonky !!!!!! Je Kiff sous les oliviers" Seth Troxler "super dope" Dj Sasha / Steve "solid vibes" Dorian Paic "the tool and also the original with beat is really nice. Super solid summer (if it comes this year) open air trax. thx for the link. Dorian*" Matthias Vogt "Improvise… Tune!" Cesar Merveille "Nice trax, i like the wildness of improvise a lot. Thanks for those!" Anthony Collins "very complete ep thanks for sharing" Lauhaus "very fresh sounding ep. dig all the tracks. but improvise is my pick for now. full support." Kabale Und Liebe "very cool release! I like the freakyness and summery vibes in Improvise and the heavy drums with the spacey fx sounds in chill haze. All tracks are dope!" Arnaud Le Texier "Really cool release! Thx" Matthias Meyer "wow all tracks are great. thank you!" Satoshi Fumi "really love all!will play!" Guy Gerber "love the label .always good !thanks" Danny Tenaglia "all sound good…thanks!!!" Boris Werner "This guy is on a roll, amazing release yet again!!" Brothers Vibe "Cool release!" Konrad Black "Love this…mega bomb." Lee Curtiss "strong release!!" Shaun Reeves "will play this for sure." Dj Julietta "very nice release as always on BC :)" Tiefschwarz / Ali "i love it." Ben Sims "improvise is great, loving the pitch bend samples, thx! *this email went to my junk folder, so maybe it's going to others too" Chris Carrier "great ep good release" Le Loup "improvise is my pick…i will try on the dancefloor for sure" Luca Bacchetti "Can't wait to test it on a big sundsystem,. thanks!" Marques Wyatt "Dope joint" Luke Solomon "really really love this" Jef K "super release !!!!!!" Alex From Tokyo "Nice EP with especially "Improvise" which is the unique jam for me here!" Franco Cinelli "Serious Artist!, Bass Culture Bang The Box Again!!, thanks :)" Stacey Pullen "cool thanks" Nick Curly "great ep as always. nr 3 is the one for me. thanks Nico" Deetron "Improvise sounds great!" Joel Alter "Cool bassline on Chill Haze and some good drive on Ultimate. Great sounding e.p. alot of weird stuff going on…" Matthew Style "nice one again och!" Claude Monnet "Nice one, i will try chill haze out" tINI "will try all 4 tracks! thanks for this one. OCH never disappoints" Paolo Rocco "Ultimate Kommunikation and Ultimate DJ Tool are my favourite. Thanks for these!" Robert Dietz "never disappointing. big fan. thanks Djulz!" Manoo "not bad … Pirupa "Great music here…i really like chill haze! will play thx" Gregor Tresher "wow this sounds unique! great release! will play." Dan Curtin "wow, wasn't expecting that crazy line to come in on Improvise, fantastic…just keeps getting better through the EP as expected from OCH, super fresh sounding each track, full support!" Thomas Schumacher "THIS IS A KILLER RELEASE!!! These tracks ooze creativity and great taste. Full support on all levels!" Melon "Great grooves as always on bass culture! chill haze is gonna get played this weekend :)" Harri Subclub "digging improvise too"  Behrouz "big fan of OCH still playing Last chance saloon. Great EP proper techno. full support" Jay Tripwire "The whole ep reminds me of those old Question records..and that is a great thing.." Stacey Pullen "cool thanks" dOP "great ep love all tracks !" SLAM "liking these – will test this weekend – cheers guys". Played by Subb-Ann, Luciano, Richie Hawtin.