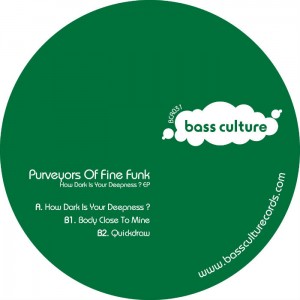 Bass Culture label present a very special comeback EP produced by the ever-trusty Purveyors of Fine Funk AKA Dan Curtin. Back in the mid-nineties Dan made a deep impact with the Purveyors Of Fine Funk outfit, his collaborative project featuring named and unnamed producers. Their music epitomized the mid-nineties groove perfectly, merging late eighties acid and rave influences with a soulful, funk-infused and more polished sound which came predominantly through Peacefrog Recordings. Now Dan is back with his Fine Funk, bringing that unforgettable sound into the 21st Century for an appearance on French label Bass Culture. It's been 12 years, this EP marks an important chapter in the label's current output. Curtin, who is originally from Ohio but now lives in Berlin, has put together a collection of four tracks for this comeback EP, which brings together acid influences like the irresistible stabs on Body Close To Mine. Though it opens with that oh-so familiar 303, the track soon evolves into a sultry groover with Rhodes style chords which push things on from the dance floor to the bedroom within seconds. The acid adventures continue on Tease, harking back to Curtin's original productions, again the acid works in tandem with warm melodies and high-pitched keys to create a delightful piece of music. Then there's Quickdraw, a deep relentless track punctuated by repetitive bleeps and jovial keys which help to build the atmosphere and energy throughout. Finally, How Dark Is Your Deepness takes things into the Twilight Zone, combining tribal aspects with industrial elements to devastating effect – wait for the R&B-tinged breakdown, huge! The return of Purveyors Of Fine Funk has been a long time coming, but it's been worth the wait. This is a fantastic new chapter in the story of both Bass Culture and Dan Curtin and an essential addition to any DJ's box.
BCR031 : Purveyors Of Fine Funk – How Dark Is Your Deepness ? EP
01 : How Dark Is Your Deepness
02 : Body Close To Mine
03 : Quickdraw
04 : Tease
Out on vinyl & digital May 2013.
DJS & MEDIA
Reboot « great ep i will play it !" Luke Solomon « DAN IS MY MAN" Dj S.M.A.L.L "How Dark Is Your Deepness rocks!!" Hector Coutau "Super tracks, Full support!" Catz N Dogz « nice one will play!" Claude Monnet « Serious house music all around here. "How Dark Is Your Deepness" takes the cake for me." Andrade "Totaly class BCR release! quickdram is massiive track. thx!" Ekkohaus "Really nice record, lovin the production, thanx…." Matthias Vogt "Holy smoke – Dan Curtin! Great tracks, especially like this Body thing!" Ray Okpara "nice release… thx for the promo. how dark is you deepness rockS! RR" Kate Simko "Hard to pick a favorite on preview.. all sound super cool.. Really nice diverse EP ,full support!!" Boris Werner "Beautifull package full with oldskool vibes, love it!" Willie Graff "Happy to see Dan revive The Purveyors Of Fine Funk guise.How Dark Is Your Deepness is a killer trip!! Will be playing this for sure. Thanks! W" Aaron Und Pascal "Lounge 'n groovy! Thx!" Philip Sherburne ""Quickdraw" is wonderful – great sense of drama without ever being overblown. And "Tease" is jazzy in the right way." Dj Jimpster "Really solid EP all round but Tease is definitely jumping out at me on first listen. Mr Curtin banging it perfectly once again!" Charles Webster "great to hear dan curtin back in action…great e.p..i love 'body close to mine'…thnx" Satoshi Otsuki "Great EP! Can't wait for this weekend! Will play!!!" Joel Alter "Great to have Dan back on track!!!" Daniel Stefanik "good work!" Gulivert "Nice release thanks !" AND.ID "happy to see new Purveyors of fine funk release! Excellent stuff!" Larsson "Super Release!! Support!Thanks" Makossa "good stuff" ONNO "Wow! love how jacking this is, oldkool and modern at the same time!" Amnaye "Acidness groovness and crazyness. Thank you Bassculture.." Adam Chappell "Great release, thanks" Amir Javasoul "Digging Tease. Will Play out! thanks!" Dubfire « quality tracks , thank you! » Maya Jane Coles « Really love How dark Is Your Deepness !! » Richie Hawtin « downloaded for r hawtin » Raresh « nice release ! merci beaucoup 🙂 » Le Loup « really interesting release! I will support for sure…" Doc Martin « Excellent Release for the underground heads!!!! » Dj Sasha « Thanks! Can you please send WAV's » Laurent Garnier « J'aime beaucoup Quickdraw —- that's the one for me boyzzz" Arnaud Le Texier « How Dark Is Your Deepness is cool! » Shaun Reeves « will play. thanks. » Nick Curly « sounds great again, thanks » Julietta « great sounds! hard to choose a favourite… » Franco Cinelli « Hot Stuff !!, love it. Thx » Mountain People / Rozzo « Very nice old schoolish groovers! » Ben Sims « a solid and classy set, as expected, thx! » Freddy « good ep » Harri « thanks for these, full support » Dj Sneak « Ive been playing some of these already, good work. » Satoshi Tomiie « Tight grooves, loving how he uses FM pianos. I am just inspired for beats making » Martin Landsky « i am really happy that dan is back with his poff project…i like all trax here but quickdraw is definitily my fav here…. » Marques Wyatt « Tight » Pirupa « How Dark Is Your Deepness is simply amazing!! can't wait to play! Thx » Dorian Paic « how dark is your deepness is the one for me ! Thx for the link. » John Dimas « Tease is my pick , all tracks are great ! » Clive Henry « cool EP.." Danny Tenaglia "thanks!!!" Brothers Vibe "Sweet release….Tks!" Mr G "so nice to have Dan back and on it………." Alex Gummihz "Nice work from Dan. Thanx for sharing and good luck with the release." Kabale Und Liebe "Nice! body close to mine & quickdraw for me tnx" Ed Davenport « Always happy to hear new material from Dan! Funny, I just dug out one of the POFF records on peacefrog to play out. Now I've got a new one too!! BONUS 🙂 » 2000 and One « nice jazzy flow! » Norm Talley « Great deep project! Feelin Body Close to Mine:)Tracks are nice an Fat!!!! Support from Detroit!!!!! » Gregor Tresher « cool stuff, track 1 my fav » POINT G « tease tease tease : ) » Butch « Dope EP » Juan (Defected) « Been a fan sine Peace frog days. Love the dark chords on 'Body Close To Mine' This is ace. Thanks » Melon « what's not to like…like all of them thanx! » Luca Bacchetti « Hey!!! going to play this at WMC. Great release! thanks! » Jef K « yeah Dan Curtin rocks !! merci » Lauhaus « quickdraw and tease are my pick. thanx!" John Jastszebski « Nice Funky Ep Fom Mr Curtin again on BC !! Body Close to mine and quickdraw for me ! » Anthony Collins « great to see this project back in the game » Okain « really nice work! I am really into how dark. Will play a lot for sure » Jennifer Cardini « Merci 😉 bise a Julien !" Sascha Dive « thx » Tripmastaz « Oh man,I've been P of F.F. fan for ages!Glad Dan comes back with this project! » Luciano « Thanks for the music, downloading for Luciano » Tedd Patterson « Not for me this time. Maybe the next one. » Terry Francis « like um » Alix Alvarez « Tease is my favorite cut here. Nice! » Nikola Baytala « Purveyors Of Fine Funk !!! …Dan Curtain delivers a 4 track phenomenal masterpiece ! Nice to see the strictly rhythm roots coming back for this release on Bass Culture. Can not wait to destroy dancefloor's with this entire E.P. thank you » James Cunningham « Great release – How Dark Is Your Deepness – dark and dirty, drifting vocals, will work excellent late night on the floor, Body Close To Mine – loving the drums, acid bassline, drop at 3:10min, Quickdraw – another late night groover, nice stabs, will work great for building the floor, Tease – tease is about right haha! acid elements are great, nice vibe on this one, fantastic release well done! » Sebo K « great job dan ! excellent reactivation ! » Satoshi Ostuki « Thanks. Tease of melody is awesome! Will play it. » Terence :Terry « Really into the "body close to mine" insane !!,this cosmic ambiant mixed with this acid lead.Love it !!! Modern deephouse » Dj Spinna « Tease is a groover! » DVS1 « Tease is the one for me… Thank you! Waiting for more from the funk! » Till Von Sein « cool ep.. body close to mine a great early morning groover ,love the whole vibe.. and tease is also one for me :=) » Thomas Schumacher « Not my cup of tea. » Slam « nice EP –thanx » Deetron « How dark is your Deepness is great, love the bassline! » Jerome Pacman « Main room peak time should be good :)" Larsson « Super release like always from bc!!Full support! Thanks » Ali Schwarz / Tiefschwarz « love this release » Alex From Tokyo « Welcome back! I love Dan Curtin. This is a great EP of good groovy electronic funk! » Paolo Rocco « dopeness » Jasper « Love it! » Stacey Pullen « cool thanks » Dj Kyle Hopkins « Outstanding EP! I really enjoy all these tunes, and I'll feature them on the radio and in my club sets over the coming weeks. Thank you!"