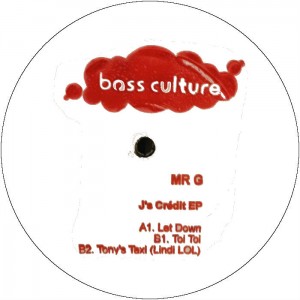 Bass Culture welcomes back an old friend, a man whose dexterity as a producer and performer has maintained a high  level of respect over the years. Mr G embodies the very ethos that Bass Culture represents; dub-heavy music with a true bassline at its heart. Mr G is a member of Bass Culture extended family and he brings the heat on this new EP with three fresh, groovy cuts that remind us all why he's become such a reliable purveyor of high quality house and techno. With its softened Rhodes piano keys 'Let Down' evokes memories of house music days gone by, but it's by no means a trendy throwback. The groove is ridiculously infectious, pulling you in and refusing to relent – midway through a muffled female vocal slowly floats to the surface to bare her soul, accentuating the organic feel of the track. Next up is 'Toi Toi', dedicated to one of London's premier warehouse events. G made the track straight after playing there for the first time and it's been a staple of his sets ever since. Incorporating a familiar male vocal snippet, tribal congos and another one of those insanely funky basslines that are a signature of G's, the track rolls out with a perfect mix of smooth grooves and punchy percussion. Last up, G ventures into tougher, more techno-based territory with 'Tony's Taxi', an intriguing title for a tough, bouncing piece of music. The kicks and snares dominate the track as a grumbling bassline works off a hypnotic, repetitive series of vocal clips. Powerful stuff.
BCR035 : Mr G – J's Credit EP
01 : Let Down
02 : Toi Toi
03 : Tony's Taxi
Out on vinyl October 2013, out digital September 15th 2014.
DJS & MEDIA
Laurent Garnier : "Moi je suis FAN de Mr G depuis toujours….. j'adore, je ne m'en lasse jamais!" Mathias Kaden : "Amazing EP!!!!! Thanks a lot" Rhadoo : "Let Down!" Dorian Paic : "Nice EP from Colin. Will play for sure. Best regards and thx for the link. Dorian*" Ryan Elliot : "Always love the G-Funks stuff. Thanks You. R" Jus-Ed : "DOPE!" Dubfire : "Thank you!!" Josh Wink : "Mr. G ALWAYS on point! And nice to see the tracks out on a great label!" Sonja Moonear : "Love the crazy women chanting! Thank you!" Doc Martin : "Great solid Dancefloor EP!!!! Super strong!!!!" DJ Deep : "Nice tracks!" Brawther : "Top Shelf Shit. 5 stars" Loco Dice : "WAV please Thanks D" Sasha : "Mr G on point as per!" Raresh : "Nice EP all around. Thanks a lot" Seth Troxler : "gonna try tonight at dc 10" Sebo K : "cool release! Full support from me!" Delano Smith : "as always, great release from Bass Culture!". Played by Madga, Richie Hawtin.