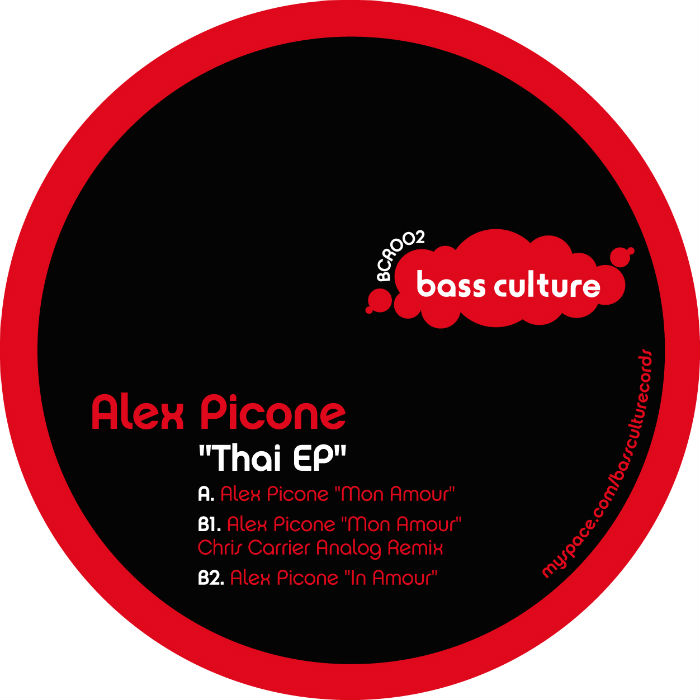 The debut release of D'Julz's 'Bass Culture Records', Lemos's 'Kalooo' has already been noted as one of the finest house tracks of 2009. Courted by Dance Press and DJ's alike, it found itself labeled by Sebo K as his 'Tune of the Summer'. A fantastic start for the imprint and one that is set to be boosted by the launch of release number two. At the helm this time…. Alex Picone.
BCR 002 : Alex Picone "Thai EP" including Chris Carrier remix
A : Alex Picone "Mon Amour"
B1 : Alex Picone "Mon Amour (Chris Carrier analog remix)"
B2 : Alex Picone "In Amour"
Digital only : Alex Picone "Mon Amour (Chris Carrier dub)"
LISTEN & BUY : Alex Picone – Thai EP – full tracks listening
Out vinyl October 14th 2009 / Out Beatportoct 28th / Other digital nov 11th
DJS & MEDIA

Loco Dice – "Full support on the whole release Luciano "Will support. Mon Amour my pick." Reboot – "Full support!!! Alex drops a monster bassline here! Yihaaaa…" Anthony Collins – "Fantastic EP by Alex this guy is hot!!!"Martinez– "Nice one. Love the sound of Alex Picone, its always quiality.. and with the superb remixes from Chris it makes a perfect record. Will play and chart!! thanks for sending…" Basti Schwarz – (Tiefschwarz) – "Nice nice, I like the Chris Carrier Analogue." Gorge – "Nice follow up. Will play the Chris Carrier rmx." Davide Squillace – "Great one on the Chris remix!"Italoboyz– "Nice release, love the subby analog version lots!"Marc Romboy – "Chris Carrier´s remix is fresh, ass kickin and innovative! Simply great!" Seuil – "Love the warm sounds on the Carrier remixes!!!" Boris Werner – "I like all tracks :)" Nima Gorji – "Nice release, love In Amour." DJ Hell – "I'll check out the Analogue mix." Yakine – "Great Release !!!! i love both remix and original!" Nick Curly – 'Great release..full support!" Frank – (Ame) – "Mon Amour sounds interesting. Will test." AFFKT – "Great tracks! I am becoming a fan of the label :-)" Shlomi Aber – "The Chris Carrier Analogue mix for is the one , will play!"Anja Schneider – "I really like In Amour. SUPPORT!" Solomun – "Chris Carrier digital mix for me." Orde Meikle – (Slam) – "Nice trax – most excellent!!" Lauhaus – "Alex rocks! Also very nice dub from remix from Chris Carrier. Full support." Karotte – "Yes! In Amour is the track for me. Also the Analogue remix from Chris is a bomb." Robert Dietz – "Mr Picone is on fire. Love that raw stuff…" Sebo-K – "Another bomb on D'Julz fantastic new label. What a massive bassline!! Excellent stuff!" DJ T. – "Will support the release. Mon Amour!" – Phonic Express – (RTE Ireland) – "I was all over the first release and this will be no different. Mon Amour is a more than worthy second release and will be a staple part of my sets over the next few weeks. Its really shaping up to being an exciting label isnt it!" Ceoltronic Radio – (RTE Ireland) – "Yeah man, this is fat. Love Mon Amour, prefer orig to remix. Very sparse but yet seriously moves and that bass makes the track. Top marks. Prefer Chris's Dub edit to the analogue edit. Love In Amour as well. quality. Will support for sure!" Dinamo FM Istanbul – "Very good sound, very good beats." Karlos Sense – (Sonica FM Ibiza) – "I like the track of Chris Carrier Analogue R. Is good good. full support." Riyaz Khan – (Diversions CHRY Toronto) – "IN AMOUR is doin' it for me!" Roual Galloway – (Faith Fanzine/Radio) – "Mon Amour is my love!" Weekend Players – (RTE Ireland) – "Loving this Chris Carrier mixes, especially the Dub. Nice release!"Dataransmission.co.uk – "Mon Amour is stripped back and brutal … love it! Chris Carrier analogue remix also fantastic. Full support. In Amour old school and fucking rocks! full support." – Reviews confirmed in De:Bug (De), Trax (Fr), Tsugi (Fr), iDJ (UK) & Deejay Mag (Sp).